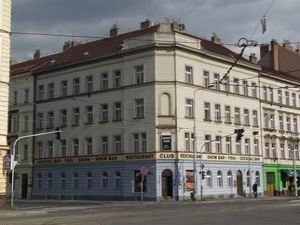 The overall description of the property: 
Massive corner house "U Námořníka", on the corner of streets Nádražní and U Královské louky, situated opposite of the train station (Praha - Smíchov). The house has a small yard and building land plot number 615 in the land register Smíchov. 
The house was built in 1890 as a coaching inn.  In the fifties of the last century has been renovated to apartment building with apartments from the first floor, the ground floor used to be a pub, in the basement cellars tenants and beer cellar. 
In 2003-2004, there was a complete renovation of the entire building with re-approval for non-residential nature of the operation. It came to layout changes, replaced all utilities, was built passenger elevator.It came to reconstruction of facade and roof of the building, replaced windows, doors, double covering of plain tiles remained original with the transfer. In the ground floor and basement is installed ventilation  in whole building is new gas central heating. 
In the basement is after the approval club with bar, sauna with pool, restrooms, locker rooms and warehouses. The ground floor has a reception, restaurant, kitchen, storage, bathroom and cloakroom. 
In the three floors are premises of relax center, offices, toilets and facilities of internet marketing. 
Soil house with original wooden truss and double tile roofing, except the current archive, engine lift and carry-store, stays unused. There is a possibility to build apartments. 
Built-up area: 331 m2 
Usable building area: 1.986 m2 
Floor area of the entire building including the court: 2.087 m2 
The total acreage area: 432 m2 
To the property belongs yard area of ​​101 m2 
POSSIBILITY OF LONG TERM RENT!